In Memory
Jack Lea Fish VIEW PROFILE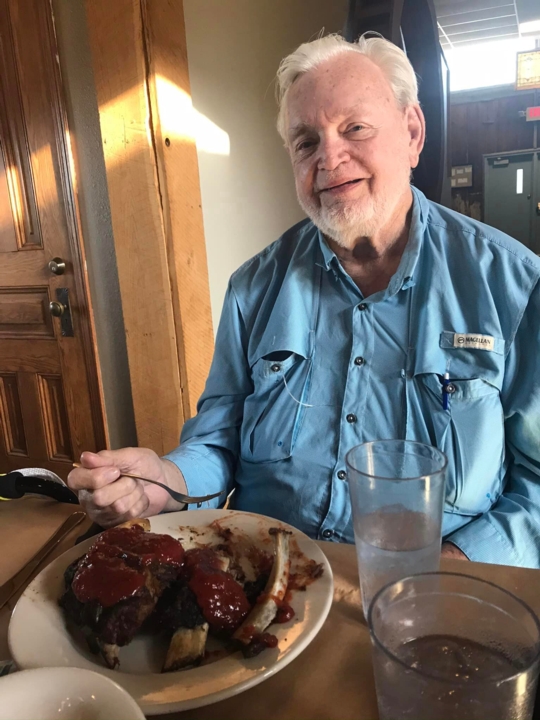 Jack Lea Fish 80, born on July 21, 1942 to Jerry and Ila Fish of Mason City Iowa, went to be with his Heavenly Father on March 4, 2023 following a long battle with cancer.
Jack a resident of Mission Texas formerly of New Hartford Iowa enjoyed traveling, visiting family and friends. He loved reminiscing and playing games and cheering on his children, grandchildren and great grandchildren in whatever they were involved in. Over the years Jack taught his family members important life lessons, as well as leisure activities like fishing. He recently said I want to laugh and enjoy my family, to live… not just be alive! He enjoyed his church and Sunday school class. If you know Jack you know he entered heaven with a level and a square in his hand!
Jack had years of work career at Northwestern Cement Plant in Mason City, and both Schoitz and Doefer Engineering in Waterloo and a long career ending in retirement at John Deer of Waterloo, Iowa.
Jack was married to Portia Fish for 53 years living in the Waterloo area and then making their home in New Hartford Iowa. Raising daughters Kathy and Michelle. Retiring to Mission Texas in 2004. After Portia's death Jack found love again and married Charlotte Woodard of Mission Texas in 2015 they enjoyed family and friends, playing cards and being involved in Bible study fellowship.
Jack was preceded in death by Father Gerald Fish, wife Portia Fish.
Jack was survived by his mom Ila Fish, Siblings: Delbert ( Paula) Fish, Gary ( Kathy) Fish, Donna (Bill) Eckard. Daughters: Kathy (Doug) Miller, Michelle(Geno) Pyse, Grandchildren: Justin(Jessica)Miller, Melishia (Nick) Haar, Nathan (Ashley) Diamond, Tiffany (Dirk) Dinsdale, and Michael Pyse. Great Grandchildren: Sophie, Spencer, Dylan, Kate, Ben, Jackson, Jonathan
And sharing Charlotte's children: Shell (Dwight) Boyer, Kevin (Shawna) Woodard, Grandchildren: Jason, Lara, and Tabatha. Great Grandchildren Phoenix, Conner, Ame, Miaha ,Brook, Joel, Jackson, Camryn, Tatum, and Mason.
Sent from my U.S.Cellular© Smartphone
Get Outlook for Android
Click here to see Jack Lea's last Profile entry.