In Memory
Jim Cahill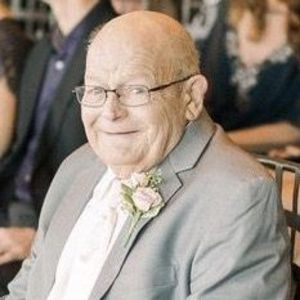 James "Jim" Lee Cahill,78, passed away in his home in Ankeny on September 14, 2020 surrounded by love and family.
A visitation will be held 2:00-3:30 p.m. Saturday, September 19, 2020 at Ankeny Memorial Funeral Home (4208 N Ankeny Blvd). A prayer service will start at 3:30 p.m.
Jim was born on January 28, 1942 in Mason City, Iowa to Calla and Hank Cahill. He married his high school sweetheart, Patricia "Pat" Margulies, February 28, 1962. Together, they raised four children and later welcomed eight grandchildren and one great-grandchild.
He loved his Patty truly, deeply, and fiercely. But his unconditional love for her radiated to everyone around him. Their home had an endless supply of love. Their door was always open and their kitchen table had a near constant stream of visiting friends, neighbors, and family. Jim's love didn't just extend to the people in his life. He had a soft spot in his heart for all animals, from the multiple rescue animals he and Pat welcomed into their home, all the way down to an army of well-fed neighborhood squirrels he always made sure to leave peanuts for. When you think of what embodies a home, you think of the Cahills.
Jim had his ornery moments, but no one in his life ever doubted his love for them. His family will miss hearing "hey honey" as they walk in the door and--as much as they may not want to admit it--his seemingly endless supply of corny jokes.
He is survived by his sister, Judy; his children Shannon, Shelley, Scott (Amber), and Steve; his grandchildren Meredith, Veronika (Zachary), Hannah (Teague), Domenic, Garrett (Audrey), Oliver, Rylee (Bryan), and Hallie; and his great-grandson, Barrett.
Jim is preceded in death by his parents, his brother Donnie, and brother in-law, Terry, and his beloved wife Patty.
In lieu of flowers, memorials may be directed to the Animal Rescue League in Jim's name.