In Memory
Jerry Harris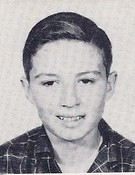 Jerry Ray Harris
AMES — Jerry Ray Harris, 62, of Ames, died (March 12, 2005) at Mary Greeley Medical Center.
Funeral services will be held at 2 p.m. Wednesday at Stevens Memorial Chapel, 607 28th St. in Ames. Burial will be in the Ames Municipal Cemetery.
Visitation will be held from 5 to 7 p.m. today at the Stevens Memorial Chapel.
Jerry was born June 27, 1942, in Mason City to Floyd Ray Harris and Betty Gene Lee.
Jerry enjoyed fishing, and spending time out doors. Jerry also had interest in the computer.
Jerry worked for 3M for the last 20 years, and for the House of Vision for 20 years.
He is survived by his wife of 41 years, Carol; children, Eric, Renee (Randy), and Ryan; grandchildren, Ashley, Nicholas, Jonathan, Bobby, and Ceara, and other relatives and friends.
Preceded in death by his parents.