Mason City

High School




Class Of 1960
UPCOMING BIRTHDAYS


--------------------------------------------------------------------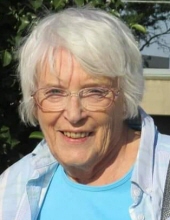 Classmate
Joy M. Drennen
Passed away
Friday November 23,2018
Born December 15,1942
MASON CITY --- Joy M. Drennen, 75, of Mason City passed away Friday, November 23, 2018, at Mercy Medical Center-North Iowa in Mason City. Online condolences may be held for the family at www.majorericksonfuneralhome.com
Joy Marie Drennen was born to Vanzo Francis Drennen and Agnes Grace (Drennen) Radke on December 15, 1942 in New Market, Iowa. She passed away peacefully on November 23rd, 2018, just shy of her 76th birthday.
Joy was an excellent student and graduated early from Mason City High School, moving on to Iowa State Teachers College, now UNI, where she earned her degree.
She met Patrick Craig Boyd in Waterloo while working as a journalist for the Waterloo Courier. Her car broke down and Pat helped push it out of the way. They married six months later in June of 1965 and settled in Iowa Falls where she worked for Ellsworth College while Pat taught English at Iowa Falls High. Their first daughter, Jessica, was born in February of 1967 and was followed almost exactly two years later by Annie.
In 1972, the family moved to Berkeley, CA with Maisie the dog and Brister the Siamese cat. Joy worked for the University of California at Berkeley Extension, putting her writing abilities to good use applying for grants for community projects.
Joy returned to Mason City in the early 1990s and stayed to be close to her mother, Agnes.
Joy was an avid reader and enjoyed murder mysteries as well as historical fiction. She was also an accomplished journalist and continued writing for the Mason City Globe Gazette, publishing her last article shortly before her death.
In addition to writing, Joy loved her cats. She had several throughout her life and could tell you stories about each and every one --- from Jinx to Tammy to Brister, Kvetch and Sam. Her last few cats were all loved but Junior was her favorite.
Joy was preceded in death by her father, Vanzo, mother Agnes, sister Mary Anne, step-father Leland, and ex-husband, Patrick. She is survived by her daughters Annie Boyd and Jessica Boyd and her granddaughter Kathleen Truskolaski, sisters Peggy Spore and Diane Drennen, as well as many friends here in Mason City. No services are planned. In lieu of flowers, please donate to an animal welfare charity of your choice.
Arrangements are with Major Erickson Funeral Home & Crematory, 111 N. Pennsylvania Avenue, Mason City, Iowa 50401, 641-423-0924, www.majorericksonfuneralhome.com
------------------------------------------------------------------------------------------------------------------
Welcome to
Mason City High School's
Class of 1960
Web Site
--------------------------------------------------------------------------------------
Last year, I replaced all the windows in my house with those expensive double pane energy efficient kind. But this week, I got a call from the contractor complaining that his work had been completed a whole year and I had yet to pay for them.
Boy, oh boy, did we go around! Just because I'm blonde doesn't mean that I am automatically stupid. So, I proceeded to tell him just what his fast-talking sales guy had told me last year. He said that in one year, the windows would pay for themselves. There was silence on the other end of the line, so I just hung up, and he hasn't called back. Guess he was embarrassed.
----------------------------------------------------------------------------
A Positive Attitude

After his plane was hit and he was forced to eject, the Marine Corps fighter pilot

finally regained consciousness.

He was in a hospital, in a lot of pain. He found himself in the ICU with tubes and

IV drips in both arms, a breathing mask, wires monitoring every function and a nurse

hovering over him, looking worried. It was obvious he was in a life-threatening situation.


The nurse gave him a serious look, straight into his eyes. Knowing he was not only

a fighter pilot, but a Marine, she spoke to him softly and slowly, enunciating each

word: "You may not feel anything from the waist down."

Somehow, he managed to mumble in reply, "Can I feel your boobs, then?

And that, my friends, is a real Positive Attitude!!